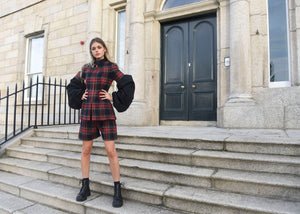 One of a kind and limited edition pieces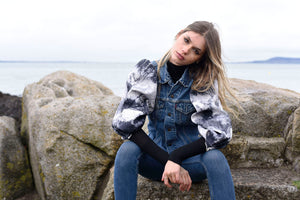 Slow fashion to be loved, worn and cared for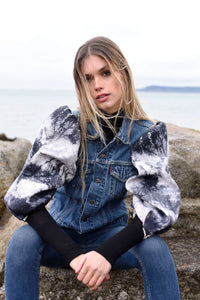 Coutured Vintage Denim
Vintage denim jackets with couture sleeves. Each one beautifully one of a kind.
Find your Denim
Kimonos
Handmade in our studio in Dublin, Ireland, these are very special pieces made from the most beautiful fabrics. All either limited edition or one-of-a-kind
Find your Kimono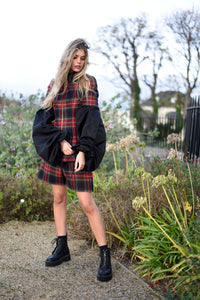 Couture Goes Rogue
Our couture is made in a mindful and sustainable way. We let our fabrics inspire our ideas and we make clothes with luxurious versatility in mind. We want every piece of your wardrobe to earn its keep and work hard for you. Using luxury fabrics, including deadstock material when we can get our hands on it, we create one of a kind and limited edition pieces of couture that don't cost the earth - literally and figuratively
More about the Couture Collection
A bit about the one going rogue
She Goes Rogue was founded by Maria Murphy, born of her love for designing and manufacturing clothes and also her love of clothes themselves - the attachment, the memories, the longevity and respect for the fabrics, the designs and the people who made them.
Read more about She Goes Rogue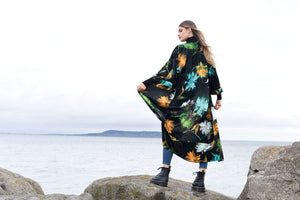 Brand Ethos
The ethos of She Goes Rogue is that everyone should have access to 'couture' clothing. This does not mean couture in the sense of one of the haute couture fashion houses in Paris, where you can pay thousands for a garment. This means couture in the real sense, where something is handmade, unique, artisan, made with respect and love for designing and creating. And all without costing the earth - literally and figuratively.
Pieces that will last forever because they're made well, from quality fabrics. Pieces that are bought by you, the client, in a mindful way. Respecting the environment by being aware of the good that can be done by caring for your clothes, making wise and informed decisions about you buy and how you can make your clothes work as hard as possible for you.
Read more
Amazing fit and quality

Had a stunning bespoke silk cami made for me by Maria at She Goes Rogue. The quality was exceptional 👌🏻. I've also purchased one of her sweatshirts; once again amazing fit and quality.

— 

Julie Molphy, Dublin
Versatile and timeless

I have a couple of silk kimonos and vintage scarves by She Goes Rogue and I absolutely love them. Maria uses the best fabrics and her craftsmanship and attention to detail is second to none. Everything I have is versatile and timeless, and can be dressed up or down. The quality is amazing so I know I'll have these pieces for years.

— 

Jan O'Loughlin, Dublin
So unique and special

Absolutely love my She Goes Rogue kimono- it is so unique and special. Dealing with Maria was a dream- she is such a professional and so talented. looking forward to seeing the next collection!

— 

Sheena Crean, Dublin
"Clothes touch us all. We may not all be interested in fashion, but we can't avoid getting dressed, which means that every time we gaze into our wardrobes wondering what to wear, we could be making a choice that has a positive or a negative impact."